November Group Discussions on the Eucharist – Sign Up Here!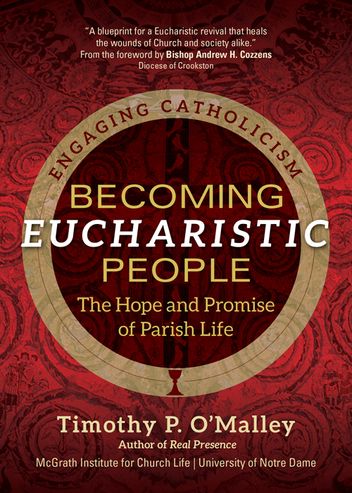 The parish eucharistic revival year aims to involve every parish in the country based on the four pillars of the revival: prayer, catechesis, service and witness.
We are launching group discussions on three Thursdays in November:  November 2, 9, and 16, 7:00 to 8:30 PM. We will discuss the book Becoming Eucharistic People -The Hope and Promise of Parish Life by Timothy P. O'Malley. During the weekend of October 28/29, we will distribute a free copy of Becoming a Eucharistic People.
O'Malley will help us reflect on four essential facets of a Eucharistic parish culture:
Liturgies of joyful reverence that celebrate the gifts of diversity;
Formation that engages the mind, imagination, understanding, and will;
A rich life of popular piety and the vibrancy of the domestic Church; and
A commitment to solidarity with your neighbor.
O'Malley says that when we reflect Christ's Real Presence to others, our parishes will become sacred spaces in which everyone is led to deeper communion with God and their neighbors.
Please join us for a group discussion on the book on November 2, 9, and 16, led by Deacon Tom Baker, Marty Arsenault, and Nanci Bachman. The sessions will be held in the Church. We hope you can join us. Please register here or call Donna DeLorenzo at 609-275-7111 x315.